MAHARASHTRAIN LUNCH: INTRODUCTION
It is well known that the people of Maharashtra consider their food as Anna he poornabrahma meaning they consider anna, or food, equal to Brahma, or the creator of the universe.
The people of this state also believe in offering their food first to the lord as a thanksgiving for all that He has given. Especially, on festive occasions, some specific mithais (sweets) are offered.
Maharashtrian food encompasses the cooking styles, traditions and recipes associated with the cuisine of the Marathi people from the state of Maharashtra in India.
It has distinctive attributes of its own, but also shares much with the wider Indian cuisine.
Maharashtrian lunch covers a range from having mild to very spicy dishes.
The coastline of Maharashtra is usually called the Konkan and boasts its own Konkani cuisine, which is a harmonized combination of Malvani, Gaud Saraswat Brahmin, and Goan Food.
---
 Top 10 Mahrashtrian Veg & Non-Veg Lunch Dishes To Try
Below is a short description of one of the best Mahrashtrian Lunch Ideas to try. Each dish is unique in itself with different ingredients, style of preparation and aroma which includes both mild and spicy dishes. Let's have a look at both vegetarian and non-vegetarian dishes.
VEGETARIAN DISHES
1. VARAN BHAAT
Varan Bhaat is a famous Maharashtrian dish of steaming hot rice topped with ghee and lentil curry.
The toovar dal is prepared in a simple and homely manner that will appeal to everybody.
Onions, tomatoes, green chillies and spices add to the flavour of the dal making it a perfect accompaniment to cooked rice.
Serve this satiating dish hot and fresh, without forgetting the dollop of ghee!
2.PITHALE BHAKARI
Pithla Bhakri is called as Farmer's meal in Maharashtra.
But because of it's awesome test it got popular among all Maharashtrian people.
Pithla is made up of Besan – chickpea flour .
Pithla tastes good with plane rice also.
After a hectic day we just prepare Pithla bhat (Rice) for dinner.
If you are eating Pithla with rice then the consistency of pithla should be semi fluid.If with bhakri then either semi fluid or complete dry, it is also called as zunka or korda (dry) Pithla.
 Farmers used to carry this Zunka Bhakri to the farm for a lunch.
3.BHARLI VANGI
Always a 'thumbs-up' for this brinjal recipe.  Bharli vangi or "bharleli vangi" as we may sometimes pronounce it at home is a routine dish prepared in our homes.
The masala for the stuffing is made at home with local ingredients.
The spices that go in add to the flavours and fragrance to the dish.The bharli vangi requires more amount of oil, as you may see in the pictures.
This is the Maharashtrian version of stuffed brinjals.
4.KOLHAPURI VEGETABLE
Veg kohlapuri is special and traditional mix veg sabzi of Maharashtra and is prepared by mixing spices.
This can be served with chapatti, parantha, poori, naan or kulcha.
This is popular dish of Maharashtra cuisine and is often found in almost north Indian restaurant menus.
Kolhapur is famous for growing and framing of hot red chills and the curry leaves up to its name as it has aromatic and spicy flavor that it gets from a specially blended curry masala powder.
5.AAMTI
Amti is a typical Maharashtrian spicy dal which is slightly hot, spicy and tangy to taste.
This dish is the essence of daily menu in most Maharastrian homes.
Maharashtrian amti is really comfort food.
You can have it with rice, with chapatti or you can just sip it like soup.
It has sweet taste along bit sourness.
There are different types of dal prepared like dal tadka, dal makhani, dal fry, katachi amti.
But this is very simple and easy to make recipe.
In Maharashtra this amti is made almost daily.
This is a flavorful and delicious yet comfort food.
---
NON-VEGETRAIN DISHES
1.  PANDHARA RASSA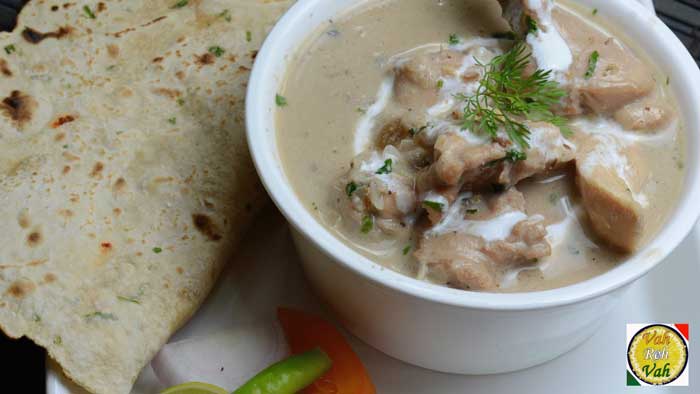 Pandhara Rassa in Marathi translated,  is literally white gravy. It is the not-so-spicy, but yet completely delicious delicacy from Kolhapur.
Pandhara Rassa is like a "Soup" made up from chicken/mutton broth and coconut milk with additional of onion cashew paste and some spices.
Chicken in white rassa is a classic dish from the Maharashtra cuisine where chicken is cooked in a popular.
Pandhra Rassa is a white colored chicken gravy with lots of spices.
2. TAMBADA RASSA
The other brother from Kolhapur is not so sweet. The Tambada Rassa is as spicy as it looks, but still a much loved recipe.
Tambda Rassa is an authentic Kolhapuri non vegetarian red curry dish made with Chicken and a lots of aromatic spices. 
Tambda Rassa/ Kombdi Rassa is very popular all over Maharashtra.
3. FISH CURRY
A lovely fish curry enhance with a freshly made masala of coconut, garlic, tamarind and red chillies. Spicy and tangy in every bite.
Malabar matthi curry, also known as fish curry, is an Indian dish with Chinese roots.
The ingredients used in this fish curry recipe make it a mix of both eastern and northern Indian culinary influences.
4. EGG CURRY
Egg are widely used in Indian Cuisine to make curries mainly because they are versatile.
Boiled eggs are a healthy way to consume rather than scrambling them each time to make a bhurji.
Egg curry has always been a favorite at home.
Egg curry ranks high on my list of comfort foods. This recipe is from North Indian and is really easy to put together.
5. KOLAMBI BHAAT

Prawns cooked in chilli, garlic and basmati rice
Kolambi Bhaat' is similar to pulao where the spices are mixed with prawns and the rice is added at a later stage.
Rice within the maharashtrian communities is known as 'bhaat' or even 'tandul' meaning grain of rice.
 There is such massive variety of rice dishes across regions of India and most are based around communities, cultures as well as seasonal ingredients through the year.
The flavour and taste will be marginally different but you will still get a delicious end result to this rice dish.
CONCLUSION
Maharashtra offers different variety of lunch dishes.
People can enjoy a different taste of every dishes.
The aroma of the dishes are very mouth watering.
Every district in Maharashtra has their own variety of dishes of lunch.
As you visit different parts of Maharashtra you will get know about their dishes, their specialty, you will also recognized different in their taste.