"TOURISM BY RAJASTHAN"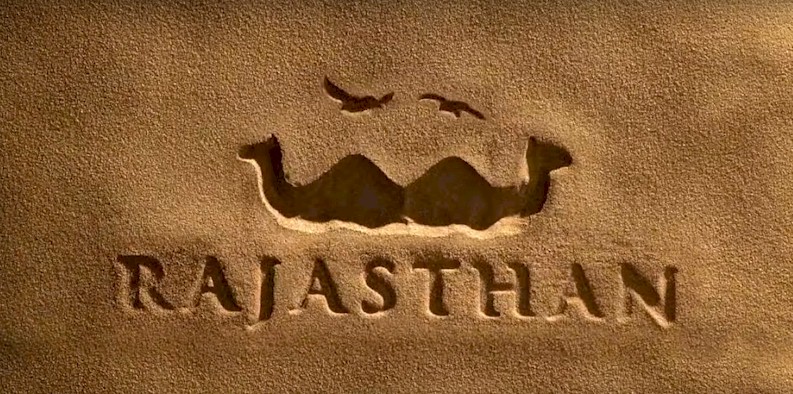 "A Land of Brave Men, Exceptional Tales, Exotic Architecture, Vibrant Culture and Warm Hospitality"
Rajasthan is one of the most popular tourist destinations in India, for both domestic and international tourists. Rajasthan attracts tourists for its historical forts, palaces, art and culture. Every third foreign tourist visiting India also travels to Rajasthan as it is part of the Golden Triangle for tourists visiting India.
WHY VISIT RAJASTHAN?
To Experience Heritage Forts, Palaces, Mansions (havelis), Wildlife, Sand Dunes, Lakes, Religious Places, Fairs and Festivals, Desert Safaris, handicrafts shopping, etc.
Best time to visit: The best time to visit Rajasthan is from mid-October to mid-March as it isn't too hot then and travellers can enjoy sightseeing without being bothered by the heat. A much loved destination among foreign and local tourists alike, a ramble through the state should take you 10 days, including all the major cities and tourist destinations. The best thing about Rajasthan is that travellers across all budgets can enjoy the state.
What's More..
Rajasthan the land of maharaja is famous for its forts and palaces that still evoke the grandeur of their regal royal past, the jaisalmer Thar Desert's never-ending sand dunes that appear like golden-hued paintings, there's no shortage of tourist places to travel in Rajasthan.
Rajasthan is one of the top-most tourist destinations in 'INDIA'
Rajasthan vacation is not only a simple trip but it's like a different world with thousands of character, beautiful location and amazing history. the feel and the touch of this land is beyond comparison.
MOST ATTRACTIVE PLACES TO VISIT IN RAJASTHAN :-
Udaipur
THE CITY OF LAKES AND PALACES
Udaipur is famous around the world as the City Of Lakes. The East. Pichola, Fateh Sagar, Udai Sagar and Swaroop Sagar lakesin this city are considered some of the most beautiful in the state.
Udaipur is a small city in the western Indian state of Rajasthan, formerly the capital of the Rajput kingdom of Mewar.
Udaipur Hotels
Udaipur Tour Package has to offer varied range of Udaipur hotels room packages. Planning a family trip or on a Udaipur honeymoon trip? Let us take care of all your hotels or Udaipur trip requirements – from Udaipur budget hotels to luxury hotels, our Udaipur hotel deals make your planning the perfect getaway simple. We offers the best-selling hotels, Great savings on hotels in Udaipur, get instant reply for your hotels or complete tour packages for Udaipur.
SHEKHAWATI
The realm of lovely havelis, harking back to the yester years, epitomizes the beauty of Shekhawati – a region that comprises of Sikar, Jhunjhunu and Churu. It is a major landmark tourist destination of colourful Rajasthan
. Once the bastion of Rao Shekha, this magnificent land, located on the North of Rajasthan, derives its nomenclature from the former. Shekhawati is a tourist's paradise.
Mythology and fauna lies at the very core of this wonderful art. Tales narrating the valour of Lord Rama and the miracles of Lord Krishna unfold on a journey of these marvellous mansions.
The region also houses towering forts, baoris, and shrines, besides the ubiquitous havelis.
BARMER
INDIA'S FIFTH LARGEST DISTRICT
Barmer is among the larger districts in Rajasthan. Being in the western part of the
In 12th century this region was known as Mallani. It's present name was given by its founder Bahada Rao, popularly known as Bar Rao, Parmar Ruler (Juna Barmer) state, it includes a part of the Thar Desert.
He build a small town which is presently known as "Juna" which is 25 kms from present city of Barmer.
Once a camel trade route, This area is rich in craft that include wood carving, pottery, embroidery work and ajrak prints. Several festivals are held in Barmer, Most important being the Mallinath Cattle festival which is held at Tilwara village in remembrance of Rawal Mallinath who was founder of Mallani Pargana.
PUSHKAR
THE TOWN OF FAIRS AND FESTIVITIES
Pushkar is one of the oldest cities in India. Located to the northwest of Ajmer, the tranquil city of Pushkar is a favoured destination for thousands of tourists and devotees flocking to Rajasthan.
Situated at a height of 510 metres, Pushkar is surrounded by hillocks on three sides
Mountain forms a natural border between Ajmer and Pushkar. Known as 'the rose garden of Rajasthan', the essence of the famous Pushkar rose is exported all over the world.
The city of Pushkar is home to the only temple dedicated to Lord Brahma in the whole world.
DURGAPUR
THE CITY OF HILLS

Dungarpur is as exotic as the green marble found here and shipped globally and lies in the foothills of the Aravalli range.
Dungarpur's goldsmiths and silversmiths are skilled artisans Famous for Their lacquer-painted toys and picture frames.
Dungarpur was founded in 1258 AD by Rawal Veer Singh, the eldest son of Karan Singh, the ruler of Mewar, after he drove out the local Bhil chieftain named Dungariya. Later rulers of Dungarpur added to the town's architectural heritage.
AJMER
THE DELIGHTFUL DARGAH DESTINATION
The city of Ajmer gets its name from 'Ajay Meru'. Roughly translated, it means 'invincible hills'. Nestled in the Aravallis south west of Jaipur, Ajmer was founded by Raja Ajaypal Chauhan in the 7th century AD.
Ajmer is home to the famous Dargah Sharif, which houses the Tomb of Garib Nawaz, also known as Moinuddin Chisti, the founder of the Chisti order of Sufism.
Ajmer is also known for Mayo College, one of the country's first schools that was a stepping stone for British style of education. It is also a sacred city for Hindus and Muslims alike and is renowned for being a centre of history and culture and beauty.
CHITTORGARH
VISIT THE LAND OF INDIA'S FINEST FORT
Chittorgarh resonates with stories of Rajputana bravery, pride and passion. The bards of Rajasthan sing tales of courage and sacrifice recounting stories that are known to every child and adult in the city.
Chittorgarh is named after its most imposing structure, the Chittorgarh Fort which stands atop a 180 metre high hill and is spread across 700 acres.
Chittorgarh Fort has had a tumultuous past. This bastion of the Rajputs has faced violent attacks thrice in its entire history.
JAISALMER
WHERE THE FORTS ARE STILL ALIVE
Jaisalmer traces its inception to the 12th century.
History tells us of Rawal Jaisal, the eldest heir of the Rawal of Deoraj, was passed over for the throne of Lodurva and a younger half-brother was crowned king.
The city of Jaisalmer also acts as the guard to western Rajasthan (and India's) frontier.
This 'Golden City' is located close to the Pakistan border and in close proximity to the Thar Desert. The city's most prominent landmark is the Jaisalmer Fort, also called Sonar Qila (Golden Fort).
Jaisalmer Fort is not just a tourist attraction. It houses shops, hotels and ancient havelis (homes) where generations continue to live.
JAIPUR
INDIA'S FIFTH LARGEST DISTRICT

Jaipur holds the distinction of being the first planned city of India.
The bustling modern city is one of the three corners of the golden triangle that includes Delhi, Agra and Jaipur
The story goes that in 1876, the Prince of Wales visited India on a tour. Since the colour pink was symbolic of hospitality, Maharaja Ram Singh of Jaipur painted the entire city pink
Jaipur traces back its origins to 1727 when it was established by Jai Singh II, the Raja of Amber.
The capital, Jaipur is an interface for the state as it is dotted with majestic forts and palaces, lakes and monuments and has many other attractions like Chokhi Dhani that beckons to the tourists as to what they are about to witness in the other cities/villages of Rajasthan.
Rajasthan is also home to a decent number of tigers and birds and some appropriate places to satiate your wildlife exploration urge would be Ranthambore National Park, Keoladeo, Sariska and Desert National Park. Opening more options for thrill and adventure are activities like Hot-Air Ballooning, Sand Dune Bashing, Ziplining, Camping, Paragliding, Watersports and Desert & Camel Safari for those who want to add more memories to their Rajasthan tour. The state is truly a holiday destination that everyone must plan to visit, it takes you back in time and offers a glimpse of the rich and culturally wealthy country that India is.