GUJARAT
Gujarat Tourism – Explore Culture, Heritage and Spirituality in Gujarat
Gujarat is one of the most diverse States in India. Its history stretches over a long years from the age old Harappan Civilization to the Mughal period. Gujarat's endless journey from Roots to Wings is timeless with historical and cultural traditions glorifying the State.Gujarat Tourism – Explore Culture, Heritage and Spirituality in Gujarat.
Gujarat is also the land of Lord Krishna. It's the hometown to India famous freedom fighter Mahatma Gandhi. Hospitality, compassion, endurance is the edifice upon which
is built. Gujarat offers its tourists scenic beauty from Great Rann of Kutch to the hills of Satpura. Gujarat is the only place in the entire world to view pure Asiatic lions.
Top Attractions and Tourist Places in Gujarat
1. Ahmedabad
Ahmedabad, also known as Amdavad or Karnavati (historically), [8] is the largest city and former capital of Gujarat, which is a state in India.
Ahmedabad is a great tourist attraction destination, as there are number of interesting places to see in and around the city.
Some of the features that perfectly describe the Ahmedabad city are splendid monuments, wonderful museums and gorgeous lakes.
Ahmedabad has emerged as an important economic and industrial hub in India. Cricket is a popular sport in Ahmedabad, which houses the 54,000-seat Sardar Patel Stadium.
Ahmedabad's increasing population has resulted in an increase in the construction and housing industries resulting in recent development of skyscrapers.
Adalaj is marked as one of the most excellent step wells also known as Baolis of Gujarat. It serves as a fabulous treat during the months of scorching heat.
2. SOMNATH
Somnath is one of the 12 jyotirlinga (shrines of Lord Shiva, where he's worshiped as a linga of light) in India.
Its seaside location is powerful, the intricate carvings on its sandstone architecture are superb, and its history is fascinating.
The temple was ransacked by Islamic invaders and rebuilt numerous times, with the final reconstruction taking place after India achieved Independence.
Lothal city is one of the interesting places of Ahmedabad, especially according to archaeological view. This town was established about 4500 years ago and is well as Indus Valley cities of Mohenjodaro and Harappa.
For bird lovers, Nalsarovar is a delightful paradise. The best time to visit this place is from November to February. Nalsarovar captures large varieties of indigenous
Patan is a must to visit because it is the leading manufacturer of the intricately designed Patola silk saris. It has also been the ancient capital city of Ahmedabad. It is usually liked by the historians, who are always in the quest to explore more and more facts about the past.
3.MARINE NATIONAL PARK
Isolated and exotic Marine National Park lies along the coast on the way to Dwarka.
It was established as a national park in 1982 and is the first of its kind in India. Yet, not many people know about it.
The national park is made up of 42 islands, 33 of which are surrounded by coral reef, and is home to diverse marine and bird life. Tourists are only permitted to visit a couple of the islands though.
4. KUTCH REGION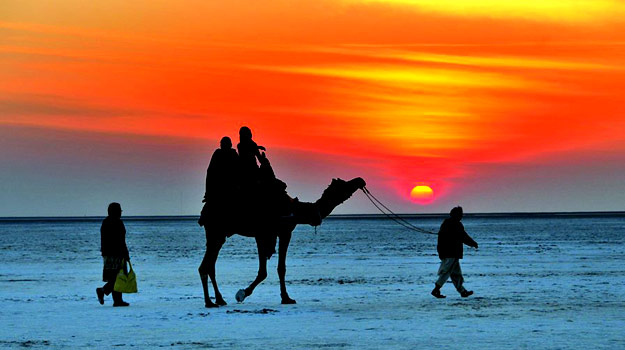 The Kutch region of Gujarat is sometimes described as India's "wild west".
This immense stretch of largely barren and harsh desert landscape apparently spans more than 40,000 square kilometers, and is one of the country's largest districts.
Its name, Kutch (or Kachchh), refers to the fact that it alternates between wet (submerged during the monsoon season) and dry.
Much of Kutch consists of seasonal wetlands known as the Great Rann of Kutch(famous for its salt desert) and smaller Little Rann of Kutch (famous for its Wild Ass Sanctuary)
5. Rani ki Vav (the Queen's Stepwell), Patan
A UNESCO's World Heritage Site, Rani ki Vav is an ancient stepwell dating back to the 11th century.
It was also constructed during the Solanki dynasty, apparently in memory of ruler Bhimdev I, by his widowed wife.
The stepwell has stairs going down seven levels, and panels containing more than 500 main sculptures and over 1,000 minor ones.
Only discovered relatively recently, the stepwell was flooded by the nearby Saraswati River and silted over until the late 1980s.
6. GIR NATIONAL PARK
Gir National Park, one of the Top Parks to See Wildlife in India, is the only place in the world where the Asiatic lion can now be found.
Thanks to conservation efforts, their numbers have been increasing.
Gir is considered to be the largest dry deciduous forest in western India. There's plenty of other wildlife there, including around 300 types of birds.
You'll have the best chance of spotting a lion if you go during March until May, although to most comfortable time to visit the park is from December until March. Safaris run daily.
7 .SAPUTARA
Saputara, meaning "Abode of Serpents" is situated on a densely forested plateau on top of the Sahyadri range.
This hill station has been developed as a tourist destination with hotels around a large lake, boat club, tribal museum, cable car, artist village, and other attractions.
It's a popular weekend getaway, especially during the monsoon season when it's misty there.
8. SUN TEMPLE MODHERA
The peaceful village of Modhera is home to one of the most significant sun temples in India.
Built in the 11th century by Solanki dynasty rulers, it's dedicated to Surya the Sun God.
The temple is a substantial structure, consisting of a carved stepped tank, assembly hall, and main shrine. It's covered in intricate stone sculptures.
The sanctum is positioned in a way that it receives the first rays of the morning .
9. Champaner-Pavagadh Archaeological Park
A little-known UNESCO World Heritage Site, Champaner and Pavagadh are laden with historical, architectural and archeological treasures from both Muslim and Hindu traditions, dating back to between the 8th and 14th centuries.
These include a hill fortress, palaces, places of worship (Jama Masjid is one of the most spectacular mosques in Gujarat), residential areas, reservoirs and step wells.


10. Shatrunjaya Hill Temples, Palitana
Palitana, a principal pilgrim center for Jains, has accumulated nearly 900 temples and more are being constructed.
Climb in excess of 3,000 steps to the top of the hill and you'll find an astonishing Jain temple complex with sensational views.
Do note that the hill is considered to be sacred. You cannot wear or carry any leather items and must dress conservatively.
COASTAL TOURISM IN GUJARAT
The project involved identifying a new segment for tourism development in the region and creating collaterals around it.
The research involved visits to Somnath and Veraval beaches and observing the development happening along the Gujarat coast, speaking with tourists and tour operators and finding out about the government initiative.
The end products were posters+ brochures + investor guides to be used during travel fairs and at tourism and travel agencies to promote coastal tourism in the state.
Fairs and Festivals in Gujarat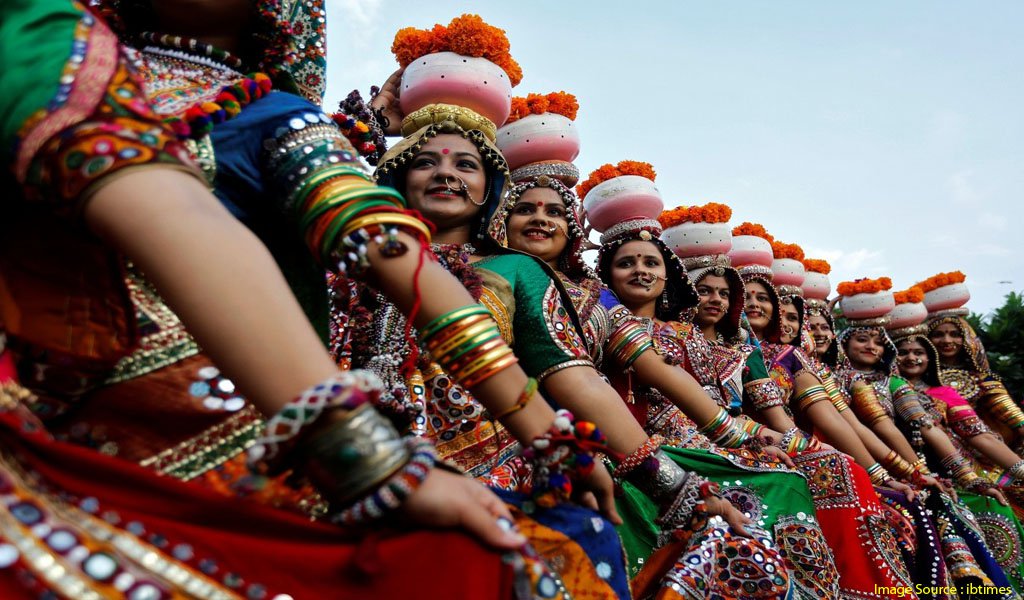 Termed as the Land of festivals and fairs, Gujarat is a colorful and a vibrant state with a rich culture and heritage.
Gujarat is known for its various festivals and about 3500 small and big fairs and festivals are celebrated here every year. With festivals celebrated all round the year Gujarat is visited by large number of tourists every year.
Gujarat most important port is situated here and the beach aids in the commercial development of the state. The list of places to visit in Gujarat is long and exhaustive. Gandhinagar, vadodara, Rajkot, patan and many other top tourist attract visitors. Take your time to make the most of your visit to Gujarat.