BENGALI BREAKFAST IDEAS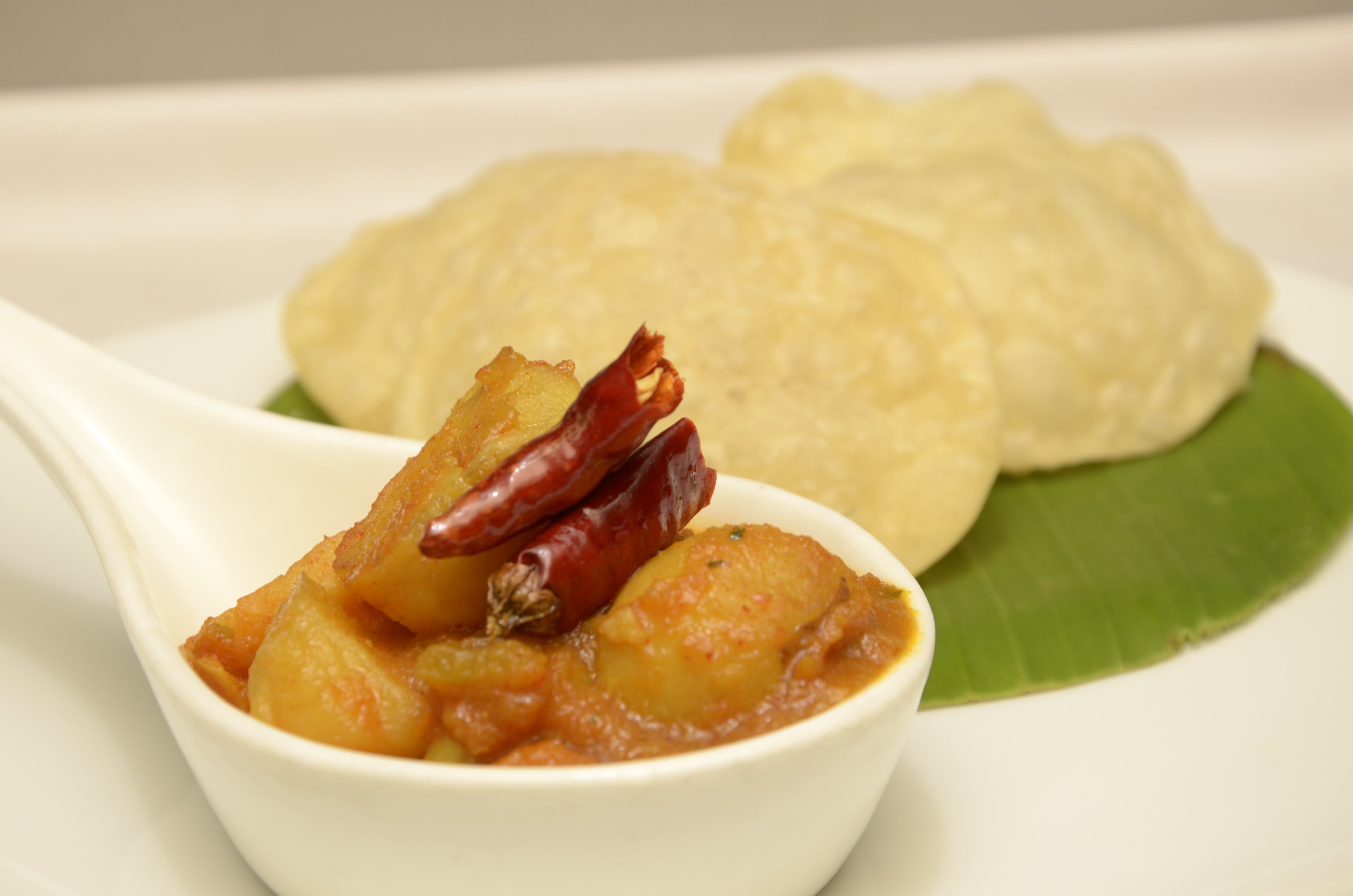 INTRODUCTION
When it comes to food, there's no way you can beat a Bengali.
Ask anybody who is or knows a Bong and you'll know how true it is.
Bengali love to eat and love to feed, so whether its lunch dinner or breakfast – food on the plate has to be grand.
Even though there is a particular inclination towards rice and its different forms, try to keep it for lunch and dinner only.
The day starts with wheat.
When it comes to weekend, there's nothing better than an authentic Bengali breakfast.
And, there cannot be a Bengali breakfast without luchi,
The most popular is luchi with cholar dal.
 Sunday is the meaty day, there's hardly a few Bengalis who doesn't cook chicken or mutton on Sundays.
So, why not start the day with some meat.
Smoking hot kasha mangsho with garam garam fulko luchi – no one can deny that breakfast.
---
6 POPULAR BENGALI BREAKFAST
YOU MUST TRY ONCE IN YOUR LIFE TIME
1. DIMER MALPUA
Dimer malpua sounds a little crazy though. The fried poaches looked almost like malpua (Bengali style pan cakes) dipped in spicy gravy. You can have this as a brunch or can carry for your lunch. Preparation time: 2-3min. Cooking time: 5-7min. Ingredients: Eggs (Dim): 2, Onion (Peyaj): 1 medium, finely chopped, Garlic (Rasun): 4-5 cloves, Ginger-garlic paste (Ada-rasun bata): 1 teaspoon, Turmeric powder (Halud guro): ½ teaspoon, Chili powder (Lal lankar guro): 1 teaspoon, Mustard oil (Sarser tel): 3 tablespoon.
2. LUCHI & ALUR TORKARI
It's an open secret that we Bongs are so on with our fishes and sweets but maybe it's not a hot topic that we are also inseparable from potatoes. If you conduct a survey you'll come to know most of Bengalis simply can't live without potato. They consume it at least once a day, be it in any form; from boiled, smashed to fried, curry, you name it, we will have that happily. INGREDIENTS: Medium sized potato: 12-13, Bengal gram daal: ½ cupDry red whole chilies: 5-6Asafetida/hing: 1 pinchPanch foron: 1 tbsp Turmeric powder: 1 tspRed chilli powder: 1 tsp, Coriander powder: 1 tsp, Cumin powder: 1 tspSugar: 1 tspSalt to tasteMustard oil: 3 tbsp, Warm water: 2½ cups.
3. Radhaballavi With Dum Aloo Or Spicy Potato
Radhaballavi or lentil stuffed deep fried Indian flat bread. A delicious breakfast dish of Bengal. You can buy it from any sweet shop of Bengal. A perfect breakfast for Sunday morning. Radhaballavi is little different from kachori. Radhaballavi is soft and bigger than puri or kachori. Little sweetness in it's stuffing make it too yummy. Its taste delicious when cool too. So its perfect for your picnic. Radhaballavi goes well with chana/cholar dal or Bengal gram with hing/asafetida and cumin/jeera tempering and dum aloo/aloor dom or spicy potatoes. Ingredents : Split black gram or urad dal – 1 cupOil or ghee/clarified butter – 2 tablespoonGinger – 1 inch pieceGreen chili – 5-6Asafetida or hing – 1 teaspoonCumin powder – 1 teaspoonSalt to tasteSugar to taste. For The Dough :All purpose flour or maida – 4 cupSalt to tasteWhite oil – 2 tablespoon, Water as require to make a smooth dough.
4. KORAISHUTIR KOCHURI
Bengali Koraishutir Kochuri is made with green peas stuffing, the stuffing is very spiced so that the flavor of the green peas come through. The outer covering of the kachori is not flaky or khashta like other Indian kachoris. The dough that is used is similar to the luchi dough and is made with all-purpose flour or maida. Ingredients :For the stuffing: 2 tbsp onion seeds, 2 inches ginger, 4 green chilies (or to taste), 500 grams frozen green peas, thawed, 2 tbsp canola or vegetable oil, 1 tsp asafoetida, 1 tbsp sugar (or to taste), salt to taste, 1/4 cup water (use as little water as possible), For the shells, 500 grams all purpose flour, 2 tbsp oil, 1 tsp salt, 1 tsp sugar, lukewarm water for kneading, oil for deep frying.
5. KUCHO NIMKI
Bengali Style Kucho Nimki is a diamond shape fried snacks which is obvious in time of Durga Puja. Kucho means small and nimki means salty snacks. It serves best with sweets in the time of Bijoya Dashami /dussera, after immersion of Goddess Durga in holy river. This nimkis are very easy to make but it is very tasty. All purpose flour or maida kneaded in oil, salt, kalonji/ kalo jeera and water to make a dough. Then the dough rested for 20 minutes. Small balls are made out of dough flatten like parathas are cut into diamond shape and fry until light brown. It can served hot or can be stored in an airtight container after it gets cooled to room temperature.
6. MOCHAR CHOPS
"Mocha" is nothing related to coffee and chocolate for a Bengali, but is the local name given to banana blossoms. I strongly feel that Mochar Chop or cutlet made from banana blossoms, is one of the ultimate Bengali street food creations, which deserves every Bengali food connoisseur's salute. When you taste this Vegan snack, the texture and taste of the croquettes feels like you are eating something close to a pulled-mutton kebab. Ingredients: Boiled and squeezed banana flowers (mashed partially): 3 cups Potato (peeled, boiled and mashed): 1¾ cup Finely chopped onions: 1.5 cup,Grated coconut: 3 tbsp,Roasted peanuts (peeled and broken into pieces): 1.5 tbsp Ginger paste: 1.5 tspTurmeric powder: ½ tspFinely chopped green chillies (variable): 3, Bhaja moshla: 2.5 tsp, Salt: 1.5 tsp for the dough and 1 tsp while boiling the mocha initiallySugar: 1.5 tspLightly fried raisins: ¼ cupCornflour: 2.5 tbsp, Bread crumbs for coating, Oil for frying onions: 2 tbsp, Refined oil for deep-frying.
CONCLUSION
These are some Bengali breakfast which you would love have them in the morning. They have different taste and you also get variety in it.