MAHARASHTRIAN DESERTS
During the festive seasons, you will find an array of sweet dishes prepared in each household. These are the must have delicacies when in Maharashtra. Lets have a look at some of the famous desserts made in Maharshtra like modak, moti chur laddoo, khopra pak, shrikhand, puran poli, moong Dal halwa, kaju katli, karanji, chivda and besan laddoo.
Top Maharshtrian Deserts to Try
PURAN POLI
 
Puran Poli is a traditional Maharashtrian sweet dish that is prepared during the festivals of Holi and Gudi Padwa, that is the Maharashtrian New Year.
The dish that is offered as food to the Gods it referred to as naivedya and that is what puran poli is for the Maharashtrians.
The tradition is followed by Maharashtrians till date and puran poli is offered to guests the next morning, that is, the morning of the day of the main Holi or as it's known in North India, Dulandi, when people play with colours.


MODAK

With the 10-day Ganpati festival round the corner, it is time to welcome Lord Ganesha and offer him his favourite modaks.
 Ukadiche Modak is something everyone enjoys during the festival. It is either made at home or purchased from shops.
While the traditional ones are a must-have, today there are interesting variations too, to cater to different taste buds.
Dry fruits, mascarpone cheese, peanut butter, fruit compote, nutella and salted caramel are some of the ingredients combined to make avant-garde and exotic modaks.
SHRIKANDA
Shrikanda is a traditional indian sweet from the wester indian startes of maharashtra
 In Maharashtrian weedings shrikanda is served in the thalli meals in resturants.
Shrikanda is made from hung curd which is also known as chakka in marathi language, hung curd is curd where all its when has been drained.
                                              MAWA KARANGI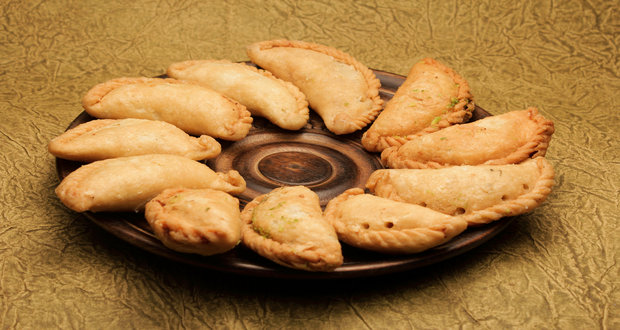 Karanji is a favourite dish that is made all over India and the stuffing can be either sweet or savoury.
This crunchy dessert has a rich sugary taste.
To get the authentic and delicious stuffing perfect, use only unsweetened khoya and cook it on low heat until it becomes dry.
AAMRASS
 In Maharashtra we made different recipes with mangoes, AAMRAS is one of authentic Maharashtrain recipe which is Made from mango pulp this is one of the most popular recipe.
Aamras or amras is pulp of tropical fruit mango eaten in India.The pulp of a ripe fruit is extracted usually by hand and consumed along with puree or chapati.
At time ghee and milk are added to the  pulp to enhance its flavor.
There are lots of types available in Mangoes in which i know kesar, payari, hapus, ratnagiri hapus, devgad hapus, totapuri. Here i use ratnagiri hapus its delicious.
AAMRAKHANDA
Amras is the pulp of the tropical fruit Mango eaten in India. The pulp of a ripe fruit is extracted usually by hand and consumed along with Poori or Chapati. At times ghee and milk are added to the pulp to enhance its flavour.
MOTICHUR LADOO
This dish is a must-have during the Ganesh festival, as it is said to be one of the favourite foods of Lord Ganesha and even finds mention in the Ganesha aarti.
Made from besan and sugar syrup, it is famous across India.
Use a finely perforated griddle so that the boondis do not become too big. Big boondis spoil the texture of the laddoo.
GULAB JAMUN
Gulab jamun is one of most favorite Indian dessert. You can find this in weddings, parties or even at home for small functions.
These are khoya balls deep fried and soaked in sugar syrup.
As we are using khoya/mawa/khava, this is authentic, traditional recipe.
There are many ready-made instant mixes available in market but no one comes even close to he taste of homemade gula jamun made from traditonal mawa or khoya.
Kheer
Wheat kheer is a traditional dessert usually made for festive fares in Maharashtra called Gavachi Kheer Recipe.
Traditionally the Gavachi kheer is made using whole wheat grains which needs advance preparations like soaking and pounding them.
This recipe uses whole cracked wheat (wheat daliya) which does not require these preparations and also cooks faster than the whole wheat berries.
Gavachi kheer is flavoured with nutmeg and saffron, you may use cardamom. You can enrich the sweet with nuts and dry fruits of your choice.
Jaggery imparts its distinct, earthy sweetness to the kheer and is healthier than refined sugar.
Gajar Halwa
Gajar halwa is a very popular dessert or pudding.
Most important is this is a very simple and easy recipe. It does not require much time.
This is a classic Indian dessert which is made on any festival or for any celebration.
SHEERA
A wonderful dessert that can be prepared in minutes.
It does not require much advance preparation, and can be whipped up even at short notice.
Rava sheera is traditional, yet modern in its simplicity, making it a sheer delight.
CONCLUSION
The culture of Maharashtra, which reveals itself in many ways, is also reflected in its DESSERTS. Though most people are not very familiar with Maharashtrian Desserts and it has yet to find its way into five-star kitchens, there does exist a large and interesting culinary repertoire. In Maharashtra, festivals and food go together. During Ganesh Utsav, every Maharashtrian welcomes Lord Ganesh into his home and offers Modak–a favorite sweetmeat of Lord Ganesh that is made only during this festival. Shreekhand, a sort of thick yogurt sweet dish, is a great favorite at weddings and the Dussehra festival.