Get more bang per bite by incorporating these healthy foods into your diet.
What if you could make a conscious effort to add five healthy foods to your plate and make an improvement in your longevity?
The key, say some researchers, is to outsmart your body, which, as you age, is busy half-forming or damaging your cells, rather than creating healthy new cells resistant to cancer, rapid aging, and other ills. These cells are damaged by "free radicals," a very reactive and unstable atom or groups of atoms with an odd, unpaired number of electrons. When free radicals bang into DNA in your cells, they can damage it, leading to bad cell behavior such as cancer.
What can you do? Your body already has a defense system of antioxidants, chemicals that can interrupt the damaging reactions of the free radicals. Although antioxidants can also be found in our diets, examples include vitamin E, beta-carotene, and vitamin C. Sometimes, scientists also include selenium in this mix.
But do vitamins definitively lower cancer or heart disease rates? The studies thus far are not conclusive. Some findings do show that people who eat many fruits and veggies, which contain high amounts of these naturally antioxidants compounds, have lower cancer rates — but maybe they are doing other healthful things.
However, there is also some evidence indicating that taking vitamin supplements, especially taking high dosages of these so-called antioxidants, can result in more free radical damage.
So judgment and moderation are vital. Moderation, however, may mean greens for dinner or a nice salad with olive oil dressing or glass of wine each day. How hard is that?
According to Audrey Cross, PhD, professor of public health at Columbia University in New York City, and author of the nation's first dietary guide under President Jimmy Carter, some people avoid the heaped-up greenery section of the produce aisle because they don't know how to prepare the foliage there.
Studies have shown that a high intake of dark-leafy vegetables, such as spinach or cabbage, may significantly lower a person's risk of developing type 2 diabetes. Researchers at the University of Leicester said that the impact of dark green vegetables on human health should be investigated further after they gathered data from six studies. They reported their findings in the BMJ.
Spinach, for example, is very rich in antioxidants, especially when uncooked, steamed, or very lightly boiled. It is a good source of vitamins A, B-6, C, E, and K, as well as selenium, niacin, zinc, phosphorus, copper, folic acid, potassium, calcium, manganese, betaine, and iron.
Others have never even considered grazing in these verdant fields. Cross tells of giving a talk at her daughter's first grade class. Three of the youngsters had never eaten lettuce of any type!
The most nutritious and fiber-filled greens, Cross tells WebMD, include kale (ranked highest in antioxidants in a Human Nutrition Research Center study), mustard greens, broccoli rabe, bok choy, Swiss chard, and of course, good old broccoli and spinach (iceberg lettuce, on the other hand, contains almost no nutrients and precious little fiber, Cross says).
The dark leafies are even prewashed now in some cases, adds Tanya M. Horacek, PhD, RD, associate professor at Syracuse University, making them easier to use.
Leafy greens, which run the gamut from deep green and smooth-leafed, to crinkled and lacy, can be prepared many ways, Cross says:
Saute some onion or garlic in butter or canola oil and wilt the chopped greens in the sauce until softened. This is a great side dish. Or you can combine the sauce with bacon chips (made of soy) for a wilted salad (turnip greens are tougher, she warns, plan to cook rather than wilt those).
Try some crispy, flavorful leaf veggies on your next sandwich, in lieu of the rusty-looking iceberg. Cross says she made a sandwich with meatloaf and cooked kale and although her husband looked skeptical, he ate it.
Prepare your own mesclun, the pricy field greens mix so beloved of French bistros, by combining romaine, some soft Boston lettuce, and a small amount of arugula, and lace it with olive oil vinaigrette.
Greens can be a little bitter — it's the all-important phytochemicals (plant chemicals) — so don't be afraid to use some dressing.
Healthy Food No. 2: Olive oil
Another powerhouse food is olive oil, which just happens to pair perfectly with leafy dark-green veggies. Don't forget all the outdoorsy, energetic Mediterranean people who swear by an olive oil-based diet.
The term "extra virgin" basically means least processed. Olive oil not only doesn't cling to arteries, narrowing them, as do some saturated fats, but it contains powerful antioxidants called polyphenols found in many teas. Polyphenols can help keep some cells, such as those which cause breast and colon cancer, from warping and causing trouble.
One study done in Greece showed that the incidence of breast cancer was cut by as much as 12% in people who ate a lot of vegetables and that regular consumption of olive oil also seemed to confer protection.
Healthy Food No. 3: Flaxseeds
Flaxseeds are rich in fiber, which lowers cholesterol and prevents constipation. The little wonders also contain lignans, another polyphenol compound that may protect against cancer. The seeds and their oil also contain those heart smart omega-3 fatty acids you've heard so much about.
Flaxseeds take a little tender loving care. You need to store them in the fridge because they can go rancid. The oil must also be kept cold and must not be heated or put into baked goods.
To prepare the seeds, you can grind them in a normal coffee grinder. Then sprinkle a tablespoon or two on your cereal, throw it into meatloaf, toss into cookie batter, or adorn your next dish of yogurt.
As for taking flaxseed oil in pill form, many people do it and find it helps with creaky joints. Better to eat them as seeds, though, Horacek notes.
Healthy Food No. 4: Oatmeal
Turns out the Quaker guy was right — oatmeal is good for you. Oats rush cholesterol out of your system, cutting those important numbers.
Oatmeal is meal made from rolled or ground oats. Interest in oatmeal has increased considerably over the last 20 years because of its health benefits.
Research found that the cereal's soluble fiber content helps lower cholesterol levels. When these findings were published in the 1980s, an "oat bran craze" spread across the U.S. and Western Europe.
In 1997, the Food and Drug Administration (FDA) agreed that foods with high levels of rolled oats or oat bran could include data on their labels about their cardiovascular heart benefits if accompanied with a low-fat diet. This was followed by another surge in oatmeal popularity.
Most nutritionists suggest eating the long-cooking kind of oats versus instant. If eaten as a cereal, this can be garnished with milk and a spray of brown sugar or even a little butter.
Or add some blueberries — even the frozen ones are now known to be nutritional super fruits! According to a study done at Tufts University, half a cup of these little beauties packs twice as many antioxidants as most Americans get in an entire day.
Oatmeal can also be presented in delicious cookie form. Don't forget those raisins — they contain the same phytochemicals as red wine, which is also turning out to be a healthy addition to the diet, in moderation, of course.
Cross also puts oatmeal in meatloaf and casseroles.
If you sip on soda at the desk, substituting green tea could be a lifesaver. Even black teas — and especially the new, trendy "white tea"– also can up your antioxidant levels.
The beautiful, pale, green tea is rich in polyphenols, a free radical fighter. Green tea also may boost your metabolism, helping you burn off food.
Brew it from leaves (1 teaspoon per cup) or use a green teabag and a peppermint tea bag together to amp up the flavor.
As for white tea — all tea comes from a white-flowered evergreen called Camellia sinensis. The color depends on how the plant is processed. When the buds are picked while silvery-white, it's white tea. If the leaves are withered and heated, it becomes other types of tea.
Some people maintain that white tea keeps the most disease-fighting flavinoids on tap for use. White, green, or black — tea beats soda any day!
"There is no perfect food," Horacek reminds us. "You need a variety."
Speaking of which — we haven't even mentioned peanut butter (good against heart disease and diabetes), apples (just found to benefit the lungs of smokers), tomatoes and watermelon (thought now to fight prostate cancer), sardines (full of omega-3s and calcium) and turmeric (contains curcumin, which is thought to fight tumor growth).
Nuts, pulses, and grains
Nuts, pulses, and grains can be highly nutritious. Here are some of the best:
Almonds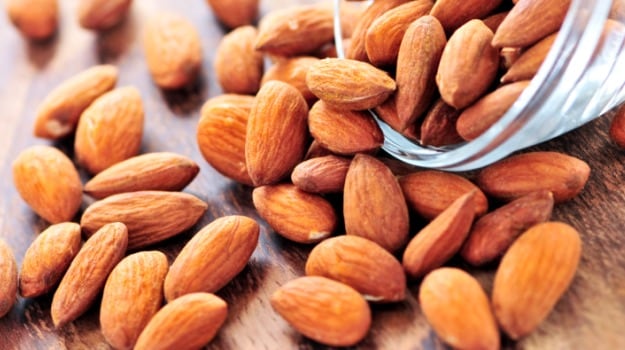 First on our list is almonds. Almonds are rich in nutrients, including magnesium, vitamin E, iron, calcium, fiber, and riboflavin. A scientific review published in Nutrition Reviews found that almonds as a food may help maintain healthy cholesterol levels.Almonds have more fiber than any other tree nut.
Brazil nut
Brazil nuts, (Bertholletia excels) are some of the most healthful nuts on the planet. In Brazil, they are called 'castanhas-do-pará' – which translates as "chestnuts from Pará." Pará is a state in northern Brazil.
They are rich in protein and carbohydrates. They are also excellent sources of vitamin B-1 (thiamine), vitamin E, magnesium, and zinc.
Not only that, but they contain one of the highest amounts of selenium of any food; selenium is a vital mineral for maintaining thyroid function.
The nuts come in a hard shell and are often served prepared ready to eat, making them an excellent and nutritious, healthful snack.
Lentils
Lentils are a pulse that is used in many cuisines throughout the world; notably, South East Asian countries like Pakistan, Nepal, Bangladesh, India, Bhutan, and Sri Lanka.
Lentils require a long cooking time, but the seeds can be sprouted which makes them ready to eat – and a delicious, healthy snack. Adding a container of sprouted lentils to a lunchbox or picnic basket, perhaps with some chili powder or pepper for flavoring, makes for a delicious and healthy snack.
Wheat germ
Wheat germ is the part of wheat that germinates to grow into a plant – the embryo of the seed. Germ, along with bran, is a by-product of milling; when cereals are refined, the germ and bran are often milled out.
Wheat germ is high in several vital nutrients, such as vitamin E, folic acid (folate), thiamin, zinc, magnesium, phosphorus, as well as fatty alcohols and essential fatty acids. Wheat germ is also a good source of fiber.
Greens, fruits, and berries
Greens, fruits, and berries are easy to add to an existing diet:
Broccoli
Fruits, leafy greens, and vegetables contain vital nutrients and fiber.
Broccoli is rich in fiber, calcium, potassium, folate, and phytonutrients. Phytonutrients are compounds that reduce the risk of developing heart disease, diabetes, and some cancers. Broccoli also contains vitamin C, as well as beta-carotene, an antioxidant.
A single 100-gram serving of broccoli can provide you with over 150 percent of the recommended daily intake of vitamin C, which in large doses can potentially shorten the duration of the common cold.
Another ingredient, sulforphane, is also said to have anti-cancer and anti-inflammatory qualities.
However, overcooking broccoli can destroy many of its nutrients. Eating it raw, or lightly steamed is best.
Apples
Apples are an excellent source of antioxidants, which combat free radicals. Free radicals are damaging substances generated in the body that cause undesirable changes. They are involved in the aging process and some diseases. Some animal studies have found that an antioxidant found in apples (polyphenols) might extend lifespans.
Researchers at Florida State University said that apples are a "miracle fruit." In their study, the investigators found that older women who started a regime of eating apples daily experienced  a 23 percent drop in levels of bad cholesterol (LDL) and a 4 percent increase in good cholesterol (HDL) after just 6 months.
Kale
Kale is a very underrated leafy green. There are a lot of different nutrients contained within the leaves of kale.
Vitamin C is a nutrient of kale, and, according to the United States Department of Medicine (USDA), it contains a substantial amount of vitamin K, 817 micrograms or 778 percent of the recommended daily intake.
Kale can be cooked or steamed like cabbage, spinach, or asparagus. It can also be consumed in smoothies or juiced for a revitalizing nutrient kick.
Blueberries
Blueberries are rich in fiber, antioxidants, and phytonutrients. Unlike minerals and vitamins, phytonutrients are not essential for keeping us alive. However, they may help prevent disease and keep the body working properly.
According to a study carried out at Harvard Medical School, older adults who eat plenty of blueberries (and strawberries) are less likely to suffer from cognitive decline, compared with other people of their age who do not.
Scientists at Texas Woman's University found that blueberries help in curbing obesity. Plant polyphenols, which are abundant in blueberries, have been shown to reduce the development of fat cells (adipogenesis), while inducing the breakdown of lipids and fat (lipolysis).
Regular blueberry consumption can reduce the risk of hypertension (high blood pressure) by 10 percent, because of the berry's bioactive compounds, anthocyanins. Scientists from East Anglia University and Harvard University reported in the American Journal of Nutrition.
Avocados
Many people avoid avocados because of their high fat content; they believe that avoiding all fats leads to better health and easier-to-control body weight – this is a myth. Avocados are rich in healthy fats, as well as B vitamins, vitamin K, and vitamin E and have a very high fiber content. Studies have shown that regular avocado consumption lowers blood cholesterol levels.
Avocado extracts are currently being studied in the laboratory to see whether they might be useful for treating diabetes or hypertension. Researchers from Ohio State University found that nutrients taken from avocados were able to stop oral cancer cells, and even destroy some of the pre-cancerous cells.
Sweet potatoes
Sweet potatoes are rich in dietary fiber, beta-carotene (vitamin A), potassium, vitamin C, and vitamin B-6.
The Center for Science in the Public Interest compared the nutritional value of sweet potatoes to other vegetables. The sweet potato ranked number one, when vitamins A and C, iron, calcium, protein, and complex carbohydrates were considered.
Fish, meat, and eggs
When looking for healthy protein, it is difficult to know which is the best source. Here are some of the best:
Oily fish
Salmon, eggs, chicken, and venison are all excellent sources of protein.
Examples of oily fish include salmon, trout, mackerel, herring, sardines, and anchovies. These types of fish have oil in their tissues and around the gut.
Their lean fillets contain up to 30 percent oil, specifically, omega-3 fatty acids. These oils are known to provide benefits for the heart, as well as the nervous system.
Oily fish provide benefits for patients with inflammatory conditions, such as arthritis. They are also rich in vitamins A and D.
Scientists at UCLA's Jonsson Comprehensive Cancer Center found that prostate cancer progression was significantly slowed when patients went on a low-fat diet with fish oil supplements.
Chicken
Chicken is a cheap and healthy meat. Free-range chicken provides an excellent source of protein.
As a white meat, chicken can be consumed much more freely than other red meats such as beef, which can have a more damaging long-term impact on overall health.
It is important to remember that the preparation and cooking of chicken has an impact on how healthy it is. This means deep-fried chicken should be limited or avoided. It's also important to remove the skin, as this part of the chicken contains high levels of fat.
Eggs
Eggs are another source of protein that can easily be incorporated into a balanced diet. Being very versatile, they can be added to many meals – not just breakfast.
They contain other vitamins, including vitamin B-2, also known as riboflavin, and vitamin B-12, both of which are important for energy and red blood cells. It is also a good source of the essential amino acid leucine, which is important for stimulating muscle protein synthesis.
The yolk of the egg contains the majority of the vitamins and minerals. It also contains the fat and cholesterol, however, research has shown that eggs do not increase the risk for heart disease. Consuming fat in moderate amounts is perfectly healthful.
Overall it is important for health to have a balanced diet and one that does not focus on one specific type of food.
It's also important to remember that a treat once in a while can be a part of a balanced diet, and one that is very healthful overall.