SOUTH INDIA
South India is a region in the southern part of India. It includes the states Andhra Pradesh, Karnataka, Kerala and Tamilnadu. It also houses the Union Territory Pondicherry (Puducherry) and Lakshadweep Island in the Arabian Sea.
The classical dances of India like "Bharat Natyam" and "Kathakali" have South Indian origin.
South India also known as Peninsular India has been known by several other names.
The term "Deccan" referring to the area covered by the Deccan Plateau that covers most of peninsular India excluding the coastal areas is an anglicised form of the word Prakrit dakkhin derived from the Sanskrit word dakshina meaning south. Carnatic derived from "Karnād" or "Karunād"meaning high country has also been associated with South India.
STATES TO VISIT IN SOUTH INDIA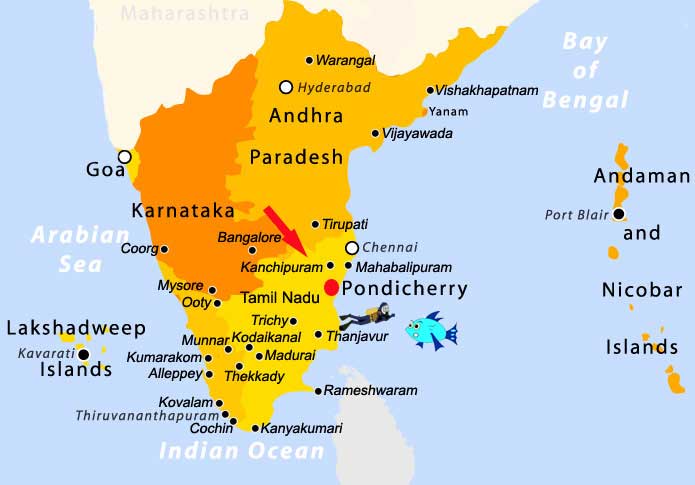 Southern part of India is an identical region with distinct culture, which makes it different from the other parts of the country. Every state of South India has its own …
1.Tour to Andhra Pradesh
Andhra Pradesh is called the "Rice bowl of India" because more than 75 percent of the crops that grow here is rice.
The main cities are Hyderabad, Secunderabad, Vishakhapatnam etc.
 The famous places in the state are Anantagiri Hills, Araku Valley, Kailasa Giri, Visakha Museum, Bheemunipatnam Beach, Tyda Park, Katiki Falls etc.
Hyderabadi Biryani, fish curry, brinjal curry, and Gongura pachadi the most popular dish of andhra pradesh. Kuchipudi is the state's best-known classical dance form.
2.Tour to Karnataka
Karnataka has contributed significantly to both forms of Indian classical music, the Carnatic (Karnataka Music) and Hindustani traditions.
Tourists get to see scenic parks, historical forts and palaces, calm backwaters and modern technological hubs. The famous cities in the state are Bangalore (Bengaluru), Mysore, Mangalore etc.
Places to visit are Sri Lakshmi Narayana Swamy Temple, Mysore Palace, Mysore Dusshera, Bangalore Palace, Bandipur National Park etc.
3.Tour to Kerala
Kerala is a popular tourist destination famous for its backwaters for houseboat cruising, Ayurvedic treatments, long stretches of golden beaches, tropical greenery romantic honeymoon destinations, fragrant spice and tea gardens and plethora of flora and fauna in the various wildlife parks.
The famous cities are Trivandrum (Thiruvananthapuram), Cochin(Kochi), Munnar Hill station, Alleppy. Some famous places are Kovalam Beach, Varkala Beach, Padmanabha Swamy Temple, Charai Beach Chinese Fishing Nets, Mattancherry, Jew Street etc.
4.Tour to Lakshadweep Islands
Lakshadweep means "A hundred thousand islands". This island is situated in the Arabian Sea.
Ten Islands are inhabited which are Agatti, Amini, Andrott, Bitra, Chetlat, Kadmat, Kalpeni, Kavaratti, Kiltan and Minicoy.
One of the main attractions in the Lakshadweep Islands is the abundance of fisheries items and the variety of fishes from the Arabian Sea. Oceanic birds flying over the Islands is an eye catching experience.
5.Tour to Pondicherry (Puducheery)
 
Pondicherry (Puducherry) is a Union Territory of India, situated at the coast of Bay of Bengal.
Pondicherry is also considered an educational hub of southern India, having many medical, engineering, law, agricultural colleges. It is famous for its churches, temples and beaches.
6.Tour to Tamil Nadu
Tamil Nadu is home to many natural resources, grand Hindu temples of Dravidian architecture, hill stations, beach resorts,multi-religious pilgrimage sites.
It is known as the 'temple state of India'.The famous cities are Chennai,Kanyakumari(Nagercoil), Ooty(Ootacamund) Hill Station, Rameshwaram, Kodaikanal Hill Station etc. Kanchipuram and Rameshwaram are famous pilgrim destination.
7.Tour to Telangana 
Telangana is the state in the South India.
Its major cities include Hyderabad, Warangal, Nizamabad, Khammam and Karimnagar. Telangana acquired its identity as the Telugu-speaking region of the princely state of Hyderabad, ruled by the Nizam of Hyderabad. Telangana is one of top IT exporting states of India.
The famous places in the state are Charminar, Osman Sagar(Gandipet) Lake, Hussain Sagar Lake, Golkonda Fort, Salar Jung Museum, Statue of Buddha on the Hussain Sagar Lake, Tirumala Venkateswara Temple etc.
Best Destination for must visit in South India
Fishing at Bheemeshwari
Bheemeshwari is a popular destination in the south, known for it's fishing camps and wildlife sanctuary.
A host of adventure activities that include Kayaking, river rafting, trekking and rope walking await you at Bheemeshwari Adventure camp, Karnataka, which also allows night stays at the jungle lodges, where you can wake up to sounds of over 200 species of exotic birds and an amazing variety of  animals.
The camp is most well known for Mahseer fishing, the largest game fish known to man.


 Elephants, waterfall rappelling, ultralight flying and more at Coorg
Widely known for being the "Scotland of the South", Coorg is an enchanting hill station located not so far from Bangalore.
The views of the grey clouds subtly blending with the greenery of the hills is a sight worth seeing. Ever tried waterfall rappelling? If not, now is the time! An exciting challenge to overcome, with the water flowing down with force, in a moist climate, hear your heart beat in your ears.
Over the sound of the waterfall. There is no better place for this than Coorg, which easily makes it to the list of best places to visit in South India.
 The backwaters at Aalapuzha (Alleppey)
Known as the "Venice of the East", Alleppey with its backwaters and floating houseboats, is one of the most beautiful places to visit in South India.
 The back waters at Kerala are a breath taking sight, particularly at the break of dawn. Surf on its gentle waters, or live in one of the house boats. Or maybe just let the hammocks tied on the coconut trees cradle you to sleep. This is one of the most soothing places to visit in South India and a perfect way to round up your trip.
Visit the annual Thrissur pooram in Kerala.
Something most travel guides wouldn't guide you to, the Thrissur pooram (held in the month of April every year) is a sight to behold in itself.
The Thrissur Pooram is a competition between the two most famous temples in the city, that are situauted in the same circle, opposite to each other. This is a unique place to visit in South India and promises to be a lot of fun.
The festival sees a larger than life turn out of people, who all gather to watch the competition.
The most fun to watch is the head gear changing competition on the elephants, and it is amazing to watch how fast they change, and with such innovation. Thrissur is the cultural hub for a lot of other festivals and you can catch great gigs around the place, like Electronic dance music shows at Fort Kochi.
 Roam amidst the tea gardens in Munnar
Located in God's own country – Kerala, Munnar is undoubtedly the most romantic hill station in South India.
A great place to drive to, you know you've reached Munnar when you smell tea in the air. It's literally everywhere, and you will go back smelling like a teabag.
The entire area is a collection of small hillocks that are trek friendly, with lakes, and water falls and large expanses of dense, green forests maintained by the forest department. The green countryside is bound to take your breath away. Have a look at the sandalwood forest as well while you are touring this place in South India.
 Camping and white water river rafting at Dandeli
Dandeli wildlife sanctuary is a great tourist place in South India for you wild, dirt loving travellers.
It is blessed with dense deciduous forests, wide variety of wild animals and the Dandeli river to boot.
A popular weekend holiday destination in Karnataka, this places is a preferred destination for coracle boating, trekking and rafting.
The scenic beauty of the place coupled with the adventure sports activities makes it an ideal holiday spot. Go white water river rafting with friends, and relax in the lush rain-forest to make your trip to south India memorable.
Do nothing at Gokarna
A small holy town situated on the Western Coast of India, Gokarna is known for it's untouched beaches and is great for a relaxing holiday.
A day or two of sunbathing on the beaches, flat on your stomach, sipping a cooler. If that is your idea of a vacation, or if what you simply need is a break from your hectic schedule of planed visits to sights in and around Karnataka, Gokarna is the place for you.
 A toned down version of Goa, tak ealong you beach hat, some sunscreen and a volleyball for a great time!
Ruins at Hampi
Hampi is one of those laid back places with grandiose historical beauty that transports you back in time. A must visit place in South India, this places offer a wide range of activities as well.
Once a part of the ancient south Indian kingdom of Vijayanagar, it's a UNESCO World heritage site and also a very important historical and religious centre.
The Virupaksha temple is an important temple which is visited by Hindus from all over the country.  So jump over the ruins, take crazy pictures, read up on them or just feel the magnitude of the kingdom that once existed here. It's truly magical.


Conclusion

The Geography of South India comprises the diverse topological and climatic patterns of South India.
South India is a peninsula in the shape of a vast inverted triangle, bounded on the west by the Arabian Sea, on the east by the Bay of Bengal and on the north by the Vindhya and Satpuraranges.